A Day in the Life of a Pharmacy Technician
Posted on 07.01.2019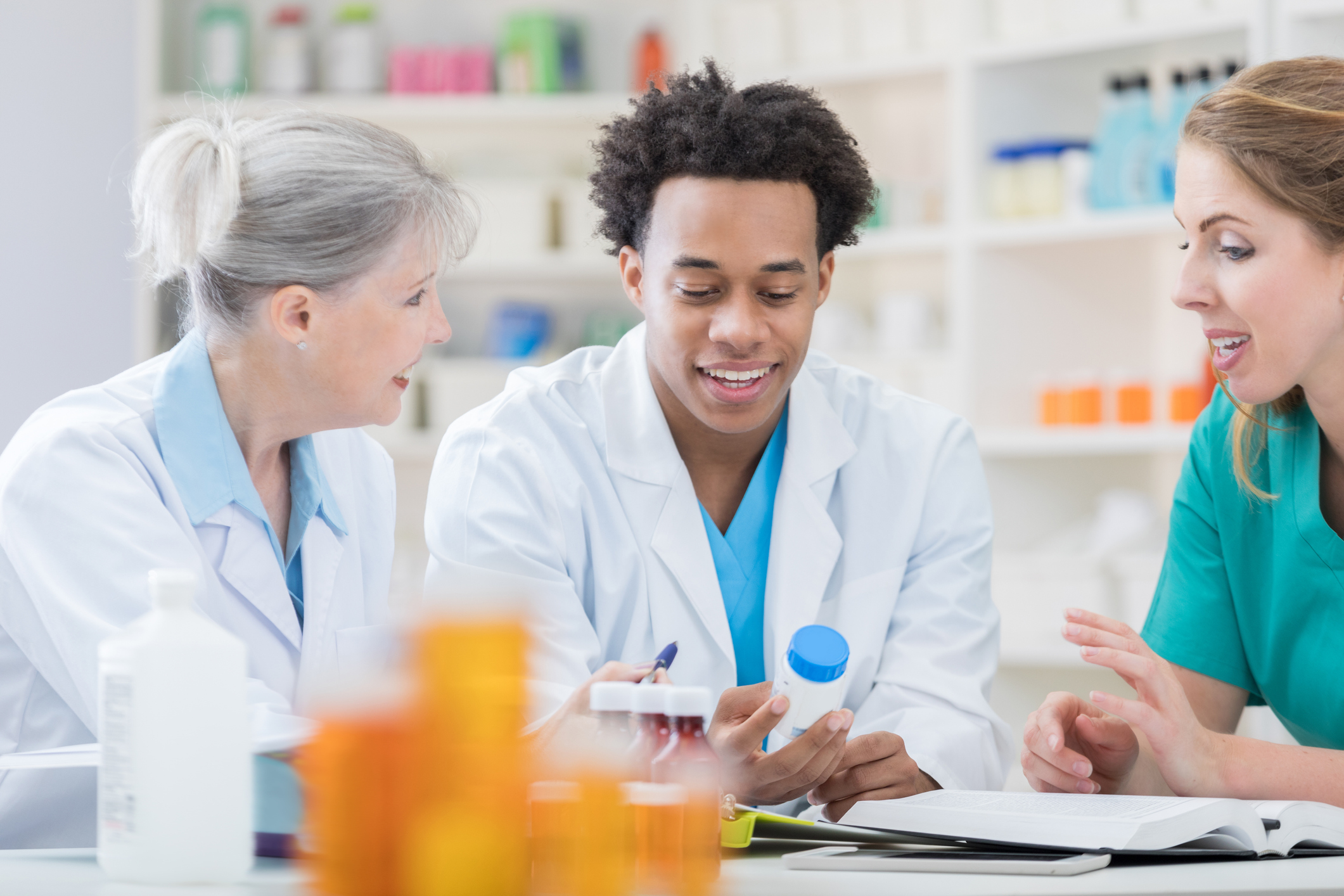 A pharmacy technician assists the pharmacist with the preparation of prescription medications for customers. The pharmacy tech is the right hand man or woman to the pharmacist, and works alongside the pharmacists to ensure patients' medication is processed, filled and distributed as efficiently and safely as possible. The pharmacy technician profession is a very important position in the healthcare industry.
Why Pharmacy Technician Is a Good Career
Becoming a pharmacy technician is a lucrative career choice with a flexible schedule and ample opportunities for growth and advancement. This career offers individuals a realistic and profitable career switch later in life, as well as a promising start for anyone with an interest in the pharmaceutical industry.
To give you a solid understanding of how great of a career this is, we've provided a full list of benefits that come with pursuing life as a pharmacy technician.
Minimal Education Required
The training and education required to become a pharmacy technician will vary according to which state you live in; however, even the most extensive state regulations are minimal compared to the education requirements for most positions in the healthcare industry. You can become a pharmacy tech in less than two years with the right training program and a passing grade on the final exam.
Flexible Work Schedule
These days, a lot of pharmacies are choosing to stay open 24/7, which gives pharmacy staff a broader work schedule to choose from. Pharmacy technicians can work your typical 9am-5pm, or they can opt for a graveyard shift or swing shift.
These flexible hours are ideal for anyone who has a routine schedule with other obligations, such as schooling or family.
Plenty of Options
As a pharmacy tech, you can choose to pursue a wide range of different career paths from pharmaceutical science and development to becoming a certified military pharmacist. In addition to different career types, there are also several different settings to choose from, but we'll dive into that a little later.
Great Advancement Opportunities
Pharmacy techs can advance their pay and credentials by earning additional specialty certifications, working their way up the internal ladder to become shift leads and supervisors, or continuing their education to become a licensed pharmacist. They can also pursue more advanced careers in nuclear or compound pharmaceuticals.
Great Pay
And on top of all that, pharmacy technicians can also earn a pretty penny for the work they do. According to the Bureau of Labor Statistics, pharmacy technicians in America earn a median annual salary of $32,700 or $15.72 hourly.
That's really not bad for an entry-level position with minimal education and training required, coupled with flexible work hours and seemingly endless advancement opportunities.
Is This the Right Career for You?
It's easy to look through the benefits of a career and decide it's the right path for you, but how can you be sure? A day in the life of a pharmacy technician is filled with a lot of customer communication, so if you like working with people and you have experience in customer service, this may be a good fit.
Having a knack for organization and attention to detail are also important skills required to fulfill the typical pharmacy technician responsibilities. You should also be comfortable with standing for long periods of time.
Why Is a Pharmacy Technician Important?
Pharmacy technicians play an integral role in the healthcare industry. Pharmacy technicians provide licensed pharmacists with the support they need to do their jobs with accuracy and precision. Together, these two positions work to ensure that patients receive the care they need to combat a wide array of physical and mental health complications.
Without pharmacy technicians it's very likely that medications of all kinds would not be so easily accessible; pharmacists would struggle to keep up with supply and demand, and there would be far more room for error—and in this industry, even the smallest error can result in dire consequences.
As the medical world continues to develop and evolve, so too will life as a pharmacy technician. The Bureau of Labor Statistics has predicted an above-average growth rate for this career path at about 12% in ten years, and experts suspect the pharmacy technician duties will evolve with the needs of the consumer and medical advancements.
What's the Difference Between a Pharmacist and a Pharmacy Tech?
There are three key differences between a licensed pharmacist and a pharmacy technician. For one thing, there is far more training and schooling required to become a pharmacist. Those who are interested in this career path will need a Doctor of Pharmacy (Pharm.D.) degree, which can take anywhere from six to eight years to earn, coupled with undergraduate study or a bachelor's degree.
Another key difference between the two positions is the pay. The Bureau of Labor Statistics reports that licensed pharmacists can expect to earn a median annual salary of $126,120, while the salary of a pharmacy technician averages at around $33,000.
Lastly, there is also a difference between pharmacy technician duties and those of a licensed pharmacist. The typical job description of a pharmacist is to oversee pharmaceutical operations, supervise technicians, and provide patient counseling on matters pertaining to prescribed medication.
How Can a Pharmacy Tech Become a Pharmacist?
A pharmacy technician wishing to become a licensed pharmacist will need to continue their education to earn a Doctor of Pharmacy degree, pass a national pharmacist licensing examination, and complete a certain number of clinical hours as a pharmacist.
The clinical hours required will vary by individual state laws and regulations, but typically range from 1,200 to 2,000 hours. Unfortunately, your hours as a pharmacy technician will not count toward your mandatory hours as a pharmacist.
Should I Become a Pharmacy Technician before Becoming a Pharmacist?
It's never a bad idea to enter an industry on the ground floor. If you're aspiring to become a pharmacist one day, why not immerse yourself in the industry and gain a wealth of experience on your way to the top?
As you work as a pharmacy technician, you can continue your education, build up an impressive resume, and advance as a pharmacy technician while you work toward your doctoral degree.
What Are the Job Duties of a Pharmacy Technician?
On an average work day the pharmacy technician will perform various job duties, which may include:
Greeting customers and receiving written prescription or refill requests
Verifying the information is complete and accurate
Establishing and maintaining patient profiles
Preparing and processing medical insurance claim forms and records
Typing prescribed medications and affixing labels
Filling bottles with correct medication
Mixing pharmaceutical preparations according to written prescriptions
Double checking prescriptions are filled correctly
Maintaining proper storage and security conditions for drugs
Cleaning and maintaining equipment or work areas according to prescribed methods
Managing inventory:

Receiving and storing incoming supplies
Verifying quantities against invoices
Checking for outdated medications in current inventory
Notifying the pharmacist of stock needs and shortages

Assisting customers by answering telephones, locating OTC items, answering questions, or referring them to the pharmacist for medication information
What Skills Does a Pharmacy Technician Need?
A pharmacy technician helps ensure the pharmacy operates and runs smoothly. Typical knowledge and skills include:
Exceptional customer service – Exceptional customer service involves exceeding customer expectations, where the standard and level of service received exceed what the customer could reasonably define as normal or expected.
Active listening – This is the ability to sincerely listen to what another person is saying and then take the time to understand the points being made by restating or paraphrasing what you have heard in your own words.
Critical thinking – When you use logic and reasoning to identify the strengths and weaknesses of alternative solutions, conclusions, or approaches to problems you're using critical thinking skills.
Mathematics skills – This includes knowledge of arithmetic, algebra, and geometry and being able to apply that knowledge in order to solve problems.
Service oriented – This means you actively look for ways to help people.
Pharmacy Technician Knowledge and Abilities
As pharmacy technicians work with all types of people, it is important to have strong communication and customer service skills. It is also very important to have a positive, respectful attitude toward patients as well as your supervisors. Pharmacy technician knowledge and abilities include:
Medical and pharmacy terminology and processing techniques
Regulations governing pharmacy practice
Pharmaceutical drugs and formulas
Chemical procedures used to compound, reconstitute and dilute drugs
Ability to monitor consistency and effectiveness of patient/client communication
Ability to identify issues and recommend solutions
Ability to observe and assess work
What Other Jobs Can Pharmacy Technicians Do?
There are a few lesser known facts about a career as a pharmacy technician, and the variety of job opportunities is one of them. We've laid it all out for you so you can start planning which area of pharmaceuticals you would do best in.
Retail Pharmacy
Pharmacy technicians in the retail sector are those that work in your local drug stores or pharmaceutical chains. These technicians should expect a great deal of customer interaction and administrative work, such as receiving inventory, managing stock, processing insurance claims, and so on.
These pharmacy technician daily tasks are to be expected in every different setting, and set the standard for the basic job description of a pharmacy technician.
Closed-door Pharmacy
A closed-door pharmacy is not open to the public, and often services a small, exclusive list of customers with specific needs. Closed-door pharmacies are niche operations that can be found in private places, such as long-term care facilities or group homes.
Pharmacy technicians in this position should expect to work closely with a small number of patients, and have additional knowledge regarding the unique needs of their customer base. This setting comes with the typical pharmacy technician duties, but may vary due to the fact that these are independently owned and operated.
Compounding Pharmacy
At a compounding pharmacy, technicians require a broader scope of knowledge concerning medications and their effects. They may also require a certification in their field, as well as an additional specialty certification for compounding medications.
Compounding pharmacies are not as common as other pharmaceutical settings and are often independently owned. At a compounding pharmacy, prescriptions are custom made to treat less common disorders and complications.
Pharmacy technicians in a compounding pharmacy can expect a higher pay for their knowledge of compounding medications and a few additional responsibilities that go beyond the standard for typical pharmacy technicians.
Hospital Pharmacy
Life as a pharmacy technician in a hospital setting can be quite different from that of a retail position. Hospital pharmacy technicians are expected to have a deeper understanding of medical terminology and various complications and procedures, and they work closer with healthcare providers to ensure the patient is receiving the best possible medication and dosage based on their medical history and insurance coverage. The primary duties of a hospital pharmacy technician include filling and refilling prescriptions.
Pharmacy Benefit Manager
The role of a pharmacy benefit manager is very different from that of a pharmacy technician. Pharmacy benefit managers work to lower the cost of prescription drugs, increase convenience in obtaining prescriptions, and improve safety across the board.
Pharmacy benefit managers are responsible for maintaining pharmaceutical contracts, negotiating discounts and rebates, and processing claims for prescription drugs. This is a very active position with a lot of communication between healthcare providers, patients, and pharmacy staff.
Administration
Pharmacy administration is a higher-level position responsible for overseeing the day-to-day operations of the pharmacy, ensuring adequate customer service, organizing pharmacy records, and so on. Pharmacy administration makes sure everything is running smoothly, and that the pharmacy is up to code on all state laws and safety regulations.
This management position requires excellent people skills, astute organization, and attention to detail. Administrators can work in a variety of different settings, from hospitals to closed-door locations.
Military
In most cases, becoming a military pharmacy technician requires formal military training that will vary from branch to branch. Pharmacy technician duties in a military setting are fairly similar to those in the retail sector; however, the environment can be a lot more fast-paced and somewhat stressful if you don't work well under pressure. If you have an interest in the military life and pharmaceuticals, this may be the perfect career for you.
What a Pharmacy Technician Can and Cannot Do?
What do pharmacy technicians do? By now you probably know there is a fine line between the things pharmacy technicians can and can't do. To make things crystal clear, we've demonstrated that line for you below.
Pharmacy technicians can receive written prescription and refill requests, fill prescriptions, give a patient their medications, work the cash register, process insurance claims, verify insurance coverage, receive inventory, and perform other administrative tasks.
What a pharmacy technician cannot do will depend on the setting in which they've chosen to work. In most cases, pharmacy technicians cannot compound medications without formal specialty training, nor can they administer vaccinations. Above all else, pharmacy technicians cannot counsel patients regarding their medication.
Where Can a Pharmacy Technician Work?
Pharmacy technicians have a variety of options to choose from regarding their place of work. A career in retail pharmaceuticals is the most common, as job availability is ample and the pharmacy technician duties are of the most basic caliber.
Another popular choice is to work in a hospital setting, although these positions require a greater understanding of medical knowledge and the ability to work closely with medical staff and healthcare providers.
Nursing homes, assisted living centers, and mental health institutions fall under the category of closed-door pharmacies. These positions will require frequent communication with patients and staff, and may include an extended knowledge of the unique needs of the exclusive customer base.
Compounding pharmacies require an advanced level of training and specialty certifications in order to properly compound unique drug combinations. Above-average math skills are a must, in addition to organization and acute attention to detail.
Pharmacy technicians also have the option to work for a mail-order pharmacy. While this job description will include less customer communication face to face, technicians can still expect to communicate with patients, healthcare providers, and insurance companies on a regular basis to verify information and fill prescriptions. The basic pharmacy technician daily tasks still apply to a mail-order pharmacy.
How Much Do Hospitals Pay Pharmacy Technicians?
Working as a hospital pharmacy technician comes with its own unique set of pros and cons. By choosing the hospital setting as opposed to the retail sector, you are essentially trading your low-stress work environment and flexible hours for increased pay.
According to PayScale, the average hourly wage for pharmacy technicians in a hospital is $15.76, while the retail average is currently $13.32. You'll find that this estimate will vary according to the location you choose and where you live.
For example, on Glassdoor.com, CVS pharmacy is reported to offer an average base pay of $13. According to Indeed, the average hourly pay for pharmacy techs at Target is $14.01.
Of course, opportunities for advancement are plentiful in both the hospital and retail settings. While hospital pharmacy technicians have the potential to earn more starting out, both positions can climb their way up the pay scale with various certifications and promotions.
How Many Hours Does a Pharmacy Technician Work?
A pharmacy technician can choose to work full-time or part-time, depending on their personal needs and the pharmacy they work for. The typical work hours for a pharmacy tech may include nights, weekends, and holidays, because a pharmacy is something the public needs near-constant access to. Because of the high demand, many pharmacies are now choosing to stay open 24/7, so graveyard and swing shifts are available in this position.
What State Pays the Most for Pharmacy Technicians?
The average base pay for a pharmacy technician is about $13, but this will vary depending on where you live. Below, we have provided you with a list of the top-paying states for pharmacy technicians, as well as the lowest-paying states.
The best states for pharmacy technicians boast an average hourly wage of $14 and up. The lowest-paying states have an hourly wage of less than $13.
For a full list of hourly wages by state, you can view the original posting on ZipRecruiter.
States that pay the most
New York
Massachusetts
Maryland
California
Connecticut
States that pay the least
Georgia
New Mexico
Arkansas
Maine
Mississippi
How can I Become a Pharmacy Tech?
The first step to becoming a pharmacy technician is to enroll in an accredited pharmacy technician program. You can choose to do this by way of traditional schooling, which can take up to two years, or you can pursue an online program.
CareerStep provides an accredited pharmacy technician program you can complete online in as little as three months. By choosing to enroll in an online program, you have the advantage of learning at your own pace and completing work according to your own schedule.
If you already have a full-time job or a growing family, online programs are a fantastic way to better your future without sacrificing what matters most to you, whether that's spending time with your kids or earning a steady income as you continue your education.
After you complete your training program, you'll need to pass the PTCB Exam with a score of 1400 or higher, snag an internship or externship, and start applying for jobs. You can learn everything you need to know about how to become a pharmacy technician on our blog.
Eager to start a career as a pharmacy technician and become a part of the healthcare industry in order to make a positive difference in the lives of others? Take pharmacy technician courses online at CareerStep and learn the skills and job duties needed for a successful career in this growing and vibrant field.